Presentations
Globodera Resistance Development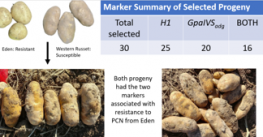 GLOBAL Project: Breeding objectives
PDF Jonathan Whitworth presented at GLOBAL Project meeting, Moscow, Idaho, Oct. 23, 2019.
---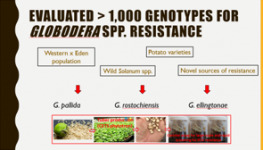 GLOBAL Project: Nematology objectives
PDF Presented at GLOBAL Annual Meeting, Moscow, Idaho, Oct. 23, 2019
---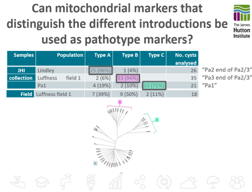 Can mitochondrial markers that distinguish the different introductions be used as pathotype markers?
PDF Presented by Ulrike Gartner at GLOBAL Project's Genomics Workshop, Corvallis, Oregon, March 2019..
---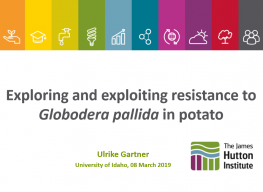 Exploring and exploiting resistance to Globodera pallida in potato
To achieve the most effective and durable resistance to G. pallida for potatoes in the UK market, knowing which G. pallida pathotypes are present in UK fields, their distribution, and how they behave in respect to virulence against resistant potato cultivars is important. Therefore, single cyst lines of UK G. pallida populations were generated, they were characterised phenotypically using six potato cultivars/breeding clones with different levels of resistance, mitotypically using a mitochondrial marker to distinguish between the three introductions of G. pallida to Europe, and more recently by GBS (genotyping by sequencing). Combining phenotypic and genotypic information we intend to develop robust molecular markers which can distinguish between the different virulence types of G. pallida.
PDF Presented by Ulrike Gratner, The James Hutton Institute, at the University of Idaho, March 2018
---
Composición de las poblaciones de campo de Globodera pallida del Reino Unido y sus implicaciones de manejo de la resistencia
PDF Presented by Vivian C. Blok at the 50th ONTA Annual Meeting, Arequipa, Peru. August 20, 2018.  
---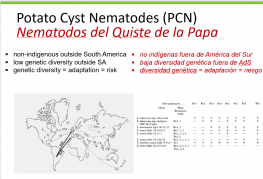 From Genotype to Phenotype, a Worldwide Comparison of Globodera species / De Genotipo a Fenotip, Una Comparación Mundial de Especies de Globodera.
PDF Presented by Benjamin Mimee at the the 50th ONTA Annual Meeting, Arequipa, Peru. August 20, 2018.
---
Characterization of Glutathione S-Transferase and Superoxide Dismutase from the Potato Cyst Nematode Globodera pallida.
Study of enzymes found in Globodera pallida that protect it from the plant defense response and might provide insights into possible novel control methods for this pest.
---
Exploration of Wild Potato Species for Novel Resistance against the Potato Cyst Nematode Globodera rostochiensis
A virulent pathotype, Ro2, has emerged which threatens the success of Globodera rostochiensis control due to the lack of commercially-acceptable resistant cultivars that can be planted on Ro2-invested fields. Cultivars resistant to Ro2 are urgently needed in New York nematode control program. Work to identify novel resistance against PCN, drawing on the U.S. Potato Genebank's collection of wild potato species, is discussed. 
Presented at PCN Mini-Symposium hosted by GLOBAL at PAA 2018 Annual Meeting, July 2018
---
Globodera pallida RHA1B effector is an E3 ubiquitin ligase that promotes virulence by degrading plant resistance proteins
The development of the long-term biotrophic relationship between Globodera pallida and its host, potato, heavily relies on effector proteins injected into host cells though stylet to suppress plant innate immunity. Here, we report a comprehensive study of novel nematode effector, GpRHA1B, which effectively blocks the defense-related programmed cell death (PCD) triggered by multiple resistant proteins. GpRHA1B is a RING-type E3 ubiquitin ligase that utilizes its enzymatic activity to overturn plant immunity though targeting import defense-related proteins for degradation.
Presented at PCN Mini-Symposium hosted by GLOBAL at PAA 2018 Annual Meeting, July 2018
---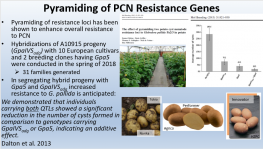 Introgression of Globodera Resistance into the Russet Market Class
PDF Presented at PCN Mini-Symposium hosted by GLOBAL at PAA 2018, Boise, Idaho
---